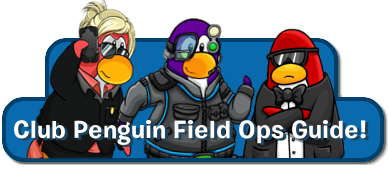 Club penguin has released this weeks field ops! Completing field ops unlocks medals that can earn you elite gear! Here's what you have to do for this mission.
Note: You can only do missions if you are an EPF Agent. If you are not an EPF Agent you can learn how to become one here.
If you couldn't read the message above:
Splendiferous, Secret Knights. The Dragon King is defeated. Now we must seal him away! Go to his statue on Dragon Peak, and use thy tools to power the seal. Onward!
Accept this mission and waddle up Ski Hill and waddle over to this side of the statue. Wait there until your spyphone turns

GREEN

.
You should recieve the message below.
If you couldn't read the message above:
Power up the chipset! Guide your micro battery by remote control. Go from the recharger to the chips. Watch out for traps!
After you have completed this mission you should recieve a message from The Director.
If you couldn't read the message above:
Well done, Agent. Your actions have been exceptional, given the circumstances. I expect the island to return to normal now. Stay sharp and watch out for threats.
Well done, agents! It's great the we defeated the Dragon King before he took over the whole island! It'd be so sad if we were all dragons instead of penguins!