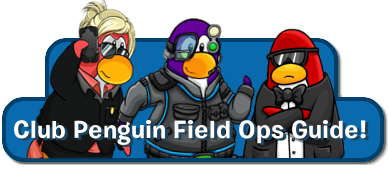 Club penguin has released this weeks field ops! Completing field ops unlocks medals that can earn you elite gear! Here's what you have to do for this mission.
Note: You can only do missions if you are an EPF Agent. If you are not an EPF Agent you can learn how to become one here.
We've detected a swarm of Doom Drones heading Downtown! The police don't stand a chance! All agents – report to the Snow Forts. Get a lock on those Doom Drones, and take them down!
Accept this field ops and head over to the snow forts. Make your way to the light brown, broken car and stay there until your spy phone turns green.
This time our mission is to destroy the targets! Enter the X and Y coordinates to fire the defense cannons. Aim for the red targets. Stay focused – you must destroy twenty targets in time.
After you complete this you should recieve a message from Agent G.
Nice work Agent! That'll slow down Protobot's plans… for now. Stay on alert. Your first priority is to protect citizens. More orders soon.
Hopefully Gary creates a new plan to try and stop protobot before he completely takes over the island. Since Club Penguin hasn't released the date in which the super hero party will end, we will never know when Protobot will be defeated.