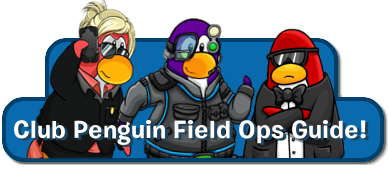 Club penguin has released this weeks field ops! Completing field ops unlocks medals that can earn you elite gear! Here's what you have to do for this mission.
Note: You can only do missions if you are an EPF Agent. If you are not an EPF Agent you can learn how to become one here.
RED ALERT! Club Penguin is under attack! Super Heroes are barely holding the Destructobot at bay. We need to disrupt its central computer. Sneak into the Super Villian Lair, and break into their mainframe.
Accept this super mission and waddle over to the villains lair and go next to the pointy green chair until your spyphone turns green.
This time our mission is to bypass the system! Match your data with the firewall to break through. Be sharp! The system speeds up! Use the arrow keys to move.
Now that you've completed this mission you should recieve a scary message from protobot.
**AGENT ACCESS DETECTED – CONNECTION TERMINATED**Attention EPF agent. You are no match for my advanced technology. Surrender now, or be destroyed.
Shoot! Protobot isn't giving up so we shouldn't either. We have to keep working to stop him before he takes over the whole island! This isn't the end!