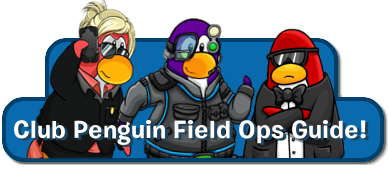 Club penguin has released this weeks field ops! Completing field ops unlocks medals that can earn you elite gear! Here's what you have to do for this mission.
Note: You can only do missions if you are an EPF Agent. If you are not an EPF Agent you can learn how to become one here.
Destructobot is defeated, and the island is saved, but we must continue our search for Protobot. Start an island-wide scan for any unusual signals. Even without the meteor, he may still be funtional.
Accept this field op and head over to the dock, go next to these two trees and wait there until your spy phone turns green.
This time we have to break the code! Scan symbols and find the right combination.
There's a new gamemode! Don't be confused it's simple!
How to play:
-- You have seven tries to get the combination correct.
-- Green means the symbol is correct.
-- Yellow means the symbol is correct but needs to be placed in a different spot.
-- Red means it's incorrect.
What do you think of the new game mode? Too hard...too easy? Even though the meteor is gone we still have to keep watch around the island. Perhaps Herbert will try to ruin the party? Only time will tell!
What do you think is going to happen? Leave a comment.